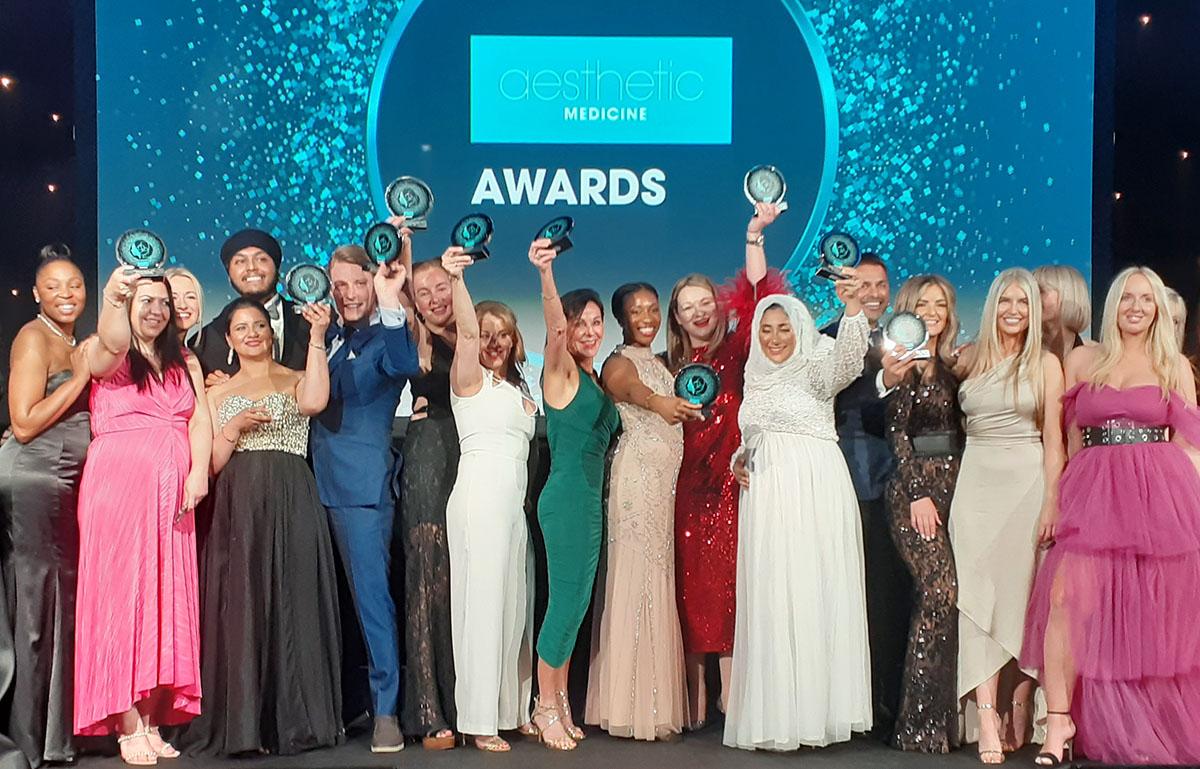 Aesthetic Medicine Awards 2022
We were absolutely delighted to have been crowned 'Aesthetic Clinic of the Year – Scotland and Northern Ireland' at the Aesthetic Medicine Awards 2022! The prestigious awards ceremony was held at Park Plaza, London, where clinics, employers and individuals came together to recognise the talent within the UK aesthetics industry and reward the best of the best.
After a night of glittering celebrations, Dr Victoria was interviewed on what this award meant to her - so we've published what was discussed.
How does it feel to have won Aesthetic Clinic of the Year – Scotland and Northern Ireland?
It feels absolutely amazing, I'm still on cloud nine! I'm so pleased for the whole team – it really does take a team to build a good clinic and this award is a real endorsement of their skills, knowledge, service and dedication.
How did you celebrate your win?
With lots of Champagne and dancing!
What does this award win mean for the team?
This is deserved recognition of their hard work and dedication. I know they are an exceptional team but I don't think they fully appreciate just how great they are at what they do in comparison to the competition. I hope this award proves to them just how amazing they are and gives them an extra confidence boost to continue to do even better.
How tough was the judging process?
It was an extremely thorough process which involved us submitting everything from evidence of our policies, procedures and health and safety records, to testimonials, interviews, before and after photos, and videos of the clinic and the team.
Would you say this is an especially sweet victory, considering the difficulties presented by the pandemic over the past two years?
Absolutely! In some ways I feel this is a shared success for the aesthetics industry as a whole. We have not just survived the pandemic but bounced back and positively thrived. So many beauty businesses struggled and were sadly not given the support they desperately needed. It really feels like DRVICTORIA™ Clinic is rising like a phoenix from the flames and the future looks positive.
How did you start in Aesthetics?
I moved into aesthetics from dentistry 21 years ago on my maternity break with two small boys at home and couple of contact numbers! The excitement of learning new skills and the positive feedback I got from my patients meant I never looked back. What I love about my job is the confidence it restores in people. It's not just about achieving great aesthetic or wellbeing outcomes – it's the changes people share with you at their review on the impact their new confidence has made to their personal life. Some start new jobs, some find love, others start a journey towards a dream they have always held.
What is your proudest achievement so far?
For me, it is growing from a single practitioner to a team of 15. It's a huge learning experience filled with many challenges, highs and lows. I love what I do and I am extremely proud of my team – many of whom have been with me now for more than seven years. I love it too when old team members who have gone on to create successful careers in the industry pop in to catch up like an extended family.
What makes an award-winning clinic in your eyes?
Three things – firstly, a focus on outstanding patient care. Secondly, using treatment protocols, that are proven by science to be effective, to deliver agreed outcomes. And finally, creating a team culture in which your team can thrive and grow.
What do you think sets DRVICTORIA™ Clinic apart from the competition?
We really care about our patient outcomes so the whole set-up for the clinic is about looking after our patients. When a patient comes through the door, they know they will be well looked after, no matter what their issue is.
So what's next?
Well, at the clinic we like to give back, which is why we are a Business for Good through Buy1 Give 1 where we constantly support those in need.
Recently mum had a cancer scare and I am thankful for the care my mother received and decided to do something to help raise awareness. So, I have been training for a 4 months and will run in Edinburgh half marathon on Sunday 29 May to help raise money for the British Skin Foundation. To me giving back is an important part of winning.
If you would like to support Dr Victoria efforts - you can donate at her giving page by clicking here. All support is appreciated.