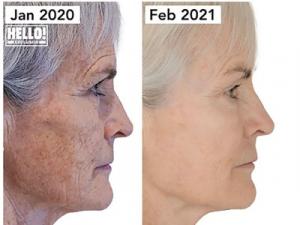 If you've seen the recent press, you may have seen the incredible results that Judy Murray has achieved through a combination of radiofrequency and microneedling supported by the amazing Obagi Nu-Derm system.  
Our EndyMed INTENSIF, which combines radiofrequency and microneedling, is the established leader in this technology in fact Morpheus8 has a smaller head, takes longer and is more uncomfortable. We have 6 years of experience and have numerous delighted customers. In fact it is so popular we have two machines, so plenty of opportunity for you to benefit. 
When you combine it with the wonderous Obagi Nu-Derm skincare system you are going to achieve amazing results. Great active skincare helps you get the most out of your treatments to give you more youthful complexion.  
What's involved?
EndyMed INTENSIF delivers radiofrequency deep into your skin's dermis using tiny microneedles that rejuvenate and strengthen your collagen and elastin fibres for a natural lift that creates tighter and smoother skin. And the beauty is – it is suitable for all skin types! 
The treatment only takes less than an hour for your face and neck. We apply a super numbing topical anesthetic cream before we start, so you even get 30 mins to relax and do nothing, while you wait to numb. ! During treatment you will feel a slight prickling sensation which is totally tolerable. 
After treatment, your skin will be red giving you a slight sunburnt look. But fear not, we'll apply a soothing gel to accelerate recovery the redness subsides usually within 24 hours). You can apply make-up the following day and be back at work. 
When do results show? 
Good results are achieved when you have a course of 3 monthly treatments. Remember, good things take time, and it takes up to 6 months for your full results to naturally develop in line with your skin's rejuvenation process. But at the end you will have fresher, healthier looking skin. 
We recommend using good, active skincare alongside this course to get even better results. The Obagi Nu-Derm system, when used consistently, will transform your skin by improving the visible signs of skin ageing, as well as reducing issues such as hyperpigmentation, age spots and rough skin, you will have the smoothest softest skin, you have had for years. 
If you want the very best then I recommend our 3-in-1 treatment, the HotVamp™. This is a personal favourite which combines EndyMed INTENSIF with Platelet Rich Plasma (PRP). PRP is 100% natural as it is derived from your own blood. Yes, that's right! Our phlebologists are specially trained to take blood gently and effectively, then your own healing PRP golden serum is prepared for you only and brushed onto your skin during the microneedling treatment. Your PRP serum contains a wealth of collagen stimulating growth factors that accelerate collagen rejuvenation for healthier skin and  a more youthful result. Totally natural rejuvenation. 
If you want to look and feel 10 years younger (just like Judy!) then book a consultation.
Victoria X