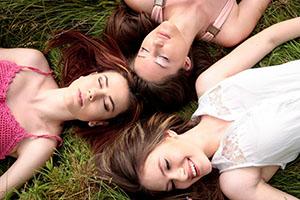 Spring is traditionally a time when nature awakens, signalling renewal and rejuvenation. Wouldn't it be great if you could channel all this springtime rejuvenation into your skin? Out with those dull winter skin cells and in with a brighter fresh-faced glow, just in time for the summer!
Well, if you are a millennial like me, I am going to reveal how our exciting new facial is perfect for you and help you do just that! Its called the TIGHTEN Pro+.
ENDYMED TIGHTEN Pro+
The ENDYMED 3DEEP™ radiofrequency (RF) treatment is a favourite choice for many clinic clients, because it gets results. I love it because its a no pain, no downtime treatment for lifted cheeks, defined jawline, and tighter skin which makes me feel on my A-game.
However, there's now a way to take those impressive results up a level. Introducing the TIGHTEN Pro+ Facial which combines the popular radiofrequency treatment with an AHA mini-peel and growth factors for enhanced skin regeneration.
In a nutshell, the peel exfoliates the outermost layer of skin, the radiofrequency gets deep down to stimulate collagen and elastin, and the growth factors enhance skin regeneration for the ultimate glow!
Pre-tightening AHA peel?
Peels can be a great way to improve the look and feel of the skin. In fact, "Peels have been studied and shown to be effective as treatment for a myriad of conditions including acne, superficial scarring, photodamage, and melasma" (Ref 1).
The Alpha-Hydroxy Acid (AHA) peel we use contains a clever combination of key ingredients which together create amazing results:
Glycolic acid: Found naturally in certain fruits and sugar cane, glycolic acid chemically exfoliates the skin by dissolving your dead skin cells. 
Citric acid: Found in citrus fruits, this reduces the appearance of your hyperpigmentation and promotes an even skin tone.
Shikimic acid: This has anti-inflammatory properties and helps leave you with a brighter complexion. 
Vitamin A, C and E: These are powerhouse antioxidants which protect your skin cells from everyday damage.
This quote I have taken from Medical News Today, shows the several benefits of AHAs; "AHAs help to remove the top layer of dead skin cells, revealing fresh new cells underneath. With long-term use, AHAs may also increase collagen and elastin in the skin. These substances give the skin structure and elasticity, but they naturally decrease with age. By using AHAs regularly, people may notice their skin looks plumper" (Ref 2).
A deeper result
Once the peel is completed, the ENDYMED 3DEEP™ TIGHTEN treatment can really get to work. This uses radiofrequency to create controlled, therapeutic heat deep within your skin to target every skin layer and stimulate your skin's natural rejuvenation power to produce more collagen and elastin, improving tissue structure and tightening the skin. You get an immediate tightening effect and repeat treatments lead to longer lasting results. 
The ENDYMED 3DEEP™ machine is superior to other radiofrequency devices due to its unique 3DEEP™ technology which targets every skin layer. Most importantly, it can reach the deeper layer of the skin where the fibroblasts are found (fibroblasts produce that all-important collagen and elastin!)
The third and final step (with an unexpected twist!)
To finish I apply a growth factor serum to your skin to improve skin texture, and reduce fine lines. Growth factors act as messengers to your skin cells to speed things up, as this process slows down as you age. The serum also contains vitamin C and E which have antioxidant and anti-ageing benefits. 
Finally, it contains something which might surprise you… snail mucin, AKA snail slime! Trust me, it's not as weird as it sounds! This ingredient is already hugely popular in Korean skincare (you might recall Dr Victoria was recently in South Korea) and there is some recent scientific research to suggest that it has fantastic hydrating and possible wound-healing properties (Ref 3). 
1, 2, 3 steps to instantly fresher looking skin
The 3-step facial feels warm and relaxing making it a perfect rejuvenating experience. Typically, it's best suited for those with mild signs of ageing skin. You may notice a little temporary redness afterwards, but as it is a non-invasive treatment, you can wear makeup immediately if you wish, since there is no risk of infection.
I recommend 6 treatments, every 2 weeks, to create long lasting results with full results visible after 3 months. You will notice an immediate difference after one, but I assure you the fantastic accumulative effect delivers more noticeable and longer lasting results.
I asked my colleague Hannah Leigh if she would add anything and she made the following great point:
"Good active skincare is essential all year round but if you're looking for a Spring boost, using skincare with retinol and vitamin C will really help rejuvenate your skin. But if you're using retinol make sure you use SPF 50 during the day even if the summer sun is yet to arrive!"
Does this sound like you? 
The TIGHTEN Pro+ Facial is great for any age, but it is most suitable for those in their 30s and 40s who have started to notice slightly sagging skin and fine wrinkles. If that sounds like you, then book in online and we'll happily help add a little 'spring' to your skin.
Mhairi
Author's experience
Mhairi is trained in advanced HydraFacial, chemical peels, laser, IPL and EndyMed and has performed thousands of treatments. Her knowledge and experience give her a deep insight into skin tightening and resurfacing treatments.
Reference links: 
Ref 1: The Journal of Clinical and Aesthetic Dermatology, Evidence and Considerations in the Application of Chemical Peels in Skin Disorders and Aesthetic Resurfacing, Rendon, Berson, Cohen, Roberts, Starker, and Wang, 2010
Ref 2: Medical News Today, What are the Benefits of Alpha Hydroxy Acid (AHA)?, Beth Sissons, medically reviewed by Cynthia Cobb, 2021
Ref 3: National Library of Medicine, Advancing Discovery of Snail Mucins Function and Application, McDermott, Cerullo, Parziale, Achrak, Sultana, Ferd, Samad, Deng, Braunschweig, and Holford, 2021
Resource links: