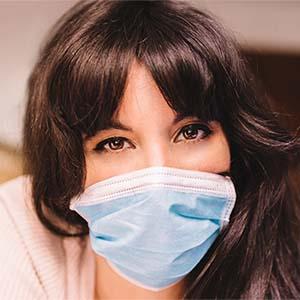 We have all become so accustomed to wearing face masks that it is now an automatic response to gather your keys, phone, wallet and essential mask before leaving the house. Whilst the health advantages are obvious, there is however one potential downside to facemasks that many of my patients have noticed – whether you like it or not, all attention is on your eyes! 
Many of you have become more acutely aware of how your eyes look, and perhaps a little self-conscious about the lines, wrinkles and drooping skin that surrounds them. The pandemic itself hasn't helped matters either. Many of you are understandably feeling stressed as a result of living through these covid times, which has had a knock-on effect on your appearance, resulting in tired looking eyes.
So if you're hoping to rewind time to those care-free (and crow's feet-free!) pre-pandemic days, read on for my top tips on how to revitalise your eyes.
The eyes have it
They say you truly smile with your eyes. But for people who are particularly expressive, this can mean peri-orbital wrinkles (or crow's feet) are more likely to appear as you age. Undereye wrinkles, known as infraorbital rhytides, are another common sign of ageing. As is a heavy-hooded, descended brow which can generally start to become more noticeable once you reach your early 40s. 
Top tips for prolonging that youthful sparkle
There are simple things you can do every day to look after your eyes and maintain that healthy, wide-eyed, youthful sparkle for as long as possible. The basics include staying hydrated, eating a well-balanced diet, getting a good night's sleep, and not smoking. It is vitally important to practice consistently good hygiene too – avoid touching your eyes, for example, as this is how infections can spread.
A high factor SPF sunscreen should be worn all year round, even on the eyelids – the thinnest skin on the body. And don't forget to wear sunglasses during the summer too.
For those now working from home, try to limit screen time where possible. I personally could read a book for hours, but my eyes become exhausted after just an hour of screen time because of the light emitted, which just goes to show what a strain it can be. Be sure to take regular breaks away from the screen and use eye drops to prevent dry eyes. Also make sure you have good lighting – not too dim and not too harsh. Finally, make sure your screen is not too far away to avoid the need to squint. And if you are consistently finding it hard to read the screen, book in for an eye test. These are offered free on the NHS, and it is recommended that everyone book in for a test every two years.
Quick fixes
We all love a good night out, but the eyes can be a real giveaway if you haven't had a good night's sleep. If you're planning a big night, pop a cooling mask in the fridge before you head out – you'll be glad of it in the morning as it can help to reduce inflammation and puffiness.
And as tired as you might be when you return home, always remove your eye makeup before heading to bed. For hygiene reasons, it is so important to keep the whole eye area clean. 
Finally, the morning after, apply a good quality moisturiser around the eye area to nourish and illuminate the skin, but remember to gently pat, never rub vigorously, as this area is delicate.
When you need a little extra help…
As the years progress, you may find you need a little extra help to recapture that youthful, well-rested look. For many people, Tixel® can have a transformative effect.
Tixel® is a non-invasive treatment that utilises fractional technology via thermal (heat) energy, applied directly onto the skin. This 'non-ablative' treatment works by heating up the underlying skin tissue, without harming the surface skin, which initiates the body's healing response, stimulating the neocollagenasis process (the production of new collagen) over time.
It can be used to treat a variety of signs of ageing, including "Fine lines and wrinkles, skin discoloration, sun damaged skin, skin tone and texture, as well as reducing age spots and acne scarring" (Ref 1).
What happens during a Tixel® treatment?
As with all treatments, a thorough consultation is first required so that I can assess your suitability for treatment. I will then cleanse your skin with disinfectant and apply a topical anaesthetic (numbing cream) around the eye area. The Tixel® device is then applied to the area to be treated. 
The device features a medical-grade titanium tip containing a matrix of tiny pyramid-shaped pins. "During treatment, the pins are introduced to the surface of the skin at a precisely controlled speed and create brief contact with the skin lasting only a few milliseconds. This enables the thermal energy stored in the pins to be transferred to the skin. The thermal transfer results in an array of tiny non-ablative coagulation sites" (Ref 2).
How does it feel?
You may feel heat in the area being treated, but this sensation is short-lived and most patients tolerate the treatment very well.
What should you expect after treatment?
Following treatment, the skin will be red and sensitive for a few days. I strongly advise you avoid using makeup for the first 48 hours after treatment. It is also important that you avoid sun exposure and wear sunscreen with an SPF rating of 50. There may be a feeling of warmth, or something similar to mild sunburn, depending on the intensity of your treatment. There will also be a little crusting that will take between a few days to a week to heal. 
How many Tixel® sessions are needed before the results are noticeable?
I generally recommend a course of 3 treatments every 4-6 weeks for optimal results, but occasionally an additional 1 or 2 treatments may be required. Results may be seen at 6 weeks, with continual improvement with each subsequent treatment.
Research has shown what an improvement the treatment can make to the skin, with one recent study concluding "Skin complexion improvement was achieved in all subjects… Subject's satisfaction was 75% and wrinkle attenuation was achieved in 75% of the cases" (Ref 3).
Book your treatment now
Tixel® is available exclusively in Scotland at the DRVICTORIA Clinic. So book your treatment now, I promise you won't look back!
Dr Asel
Author's experience:
Dr Asel was awarded a distinction in her Master of Science in Aesthetic Medicine at Queen Mary University London, so her patients can rest assured they are in the best hands when it comes to the restoration of aesthetic balance and harmony.
Reference and resource links:
Ref 1: Consulting Room – Tixel® (Thermo-Mechanical Ablation)
Ref 2: novoxel.com – The Thermal Effect
Ref 3: National Library of Medicine – Fractional Treatment of Aging Skin with Tixel®: A Clinical and Histological Evaluation, Elman, Fournier, Barnéon, Bernstein, Lask, 2016