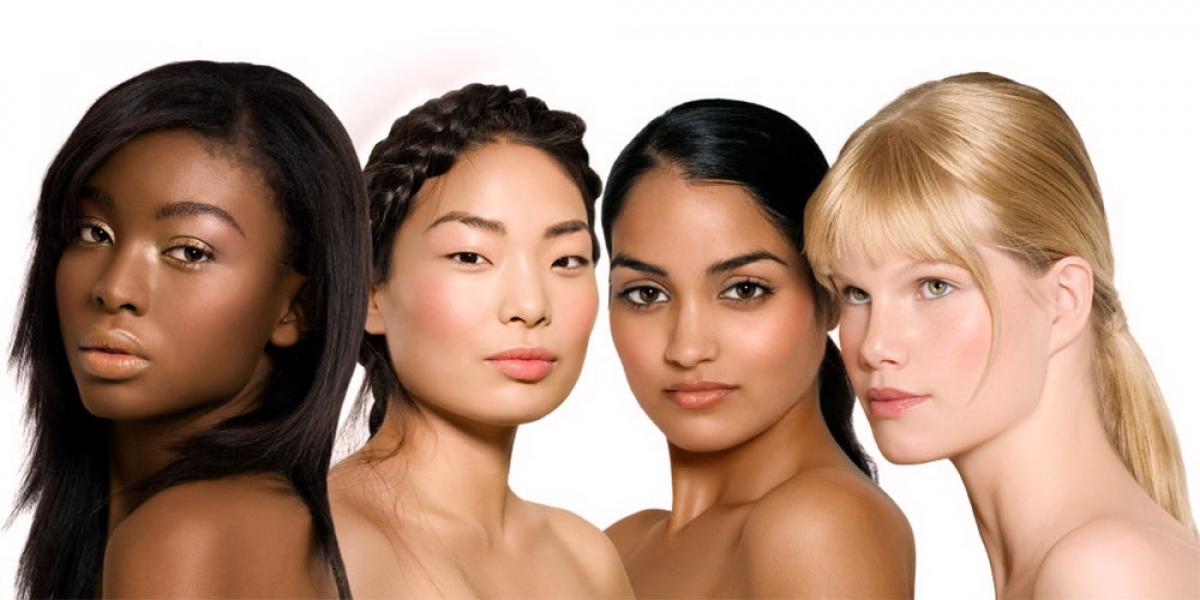 Laser hair removal for all skin types using our Alexandrite and Nd:YAG lasers. Powerful medical grade lasers with professionally trained laser experts that deliver results which is why we are the preferred supplier for NHS Lothian patients.
Permanent hair reduction - in just 6 sessions that typically achieves a 80% hair reduction. Any hair that does grow back will be much finer and will grow back less frequently, which means you get smoother skin for longer. Further treatments can improve results.
Benefits of laser hair removal
No more ingrown hairs – You won't need to shave as frequently, minimising rashes or brittle stubble, and less waxing will also result in fewer ingrown hairs too.
Improved skin tone and texture – Repeatedly shaving or waxing an area can cause skin pigmentation and uneven skin tone. Laser hair removal reduces the risk of this happening.
Money and time saving – Many women spend on average £35 waxing every 2-4 weeks to maintain smooth skin which ads up to between £455 - £910 a year. Alternately you could complete a laser hair removal course in a year and be saving up to £910 every year there afterwards. In just 5 years that's a saving £4,550 - what would you spend it on? 
How does laser hair removal work?
The laser emits a specific wavelength of light that is absorbed by the pigment (melanin) in your hair follicles. The heat from the laser damages the hair follicles, inhibiting their ability to regrow hair in the future.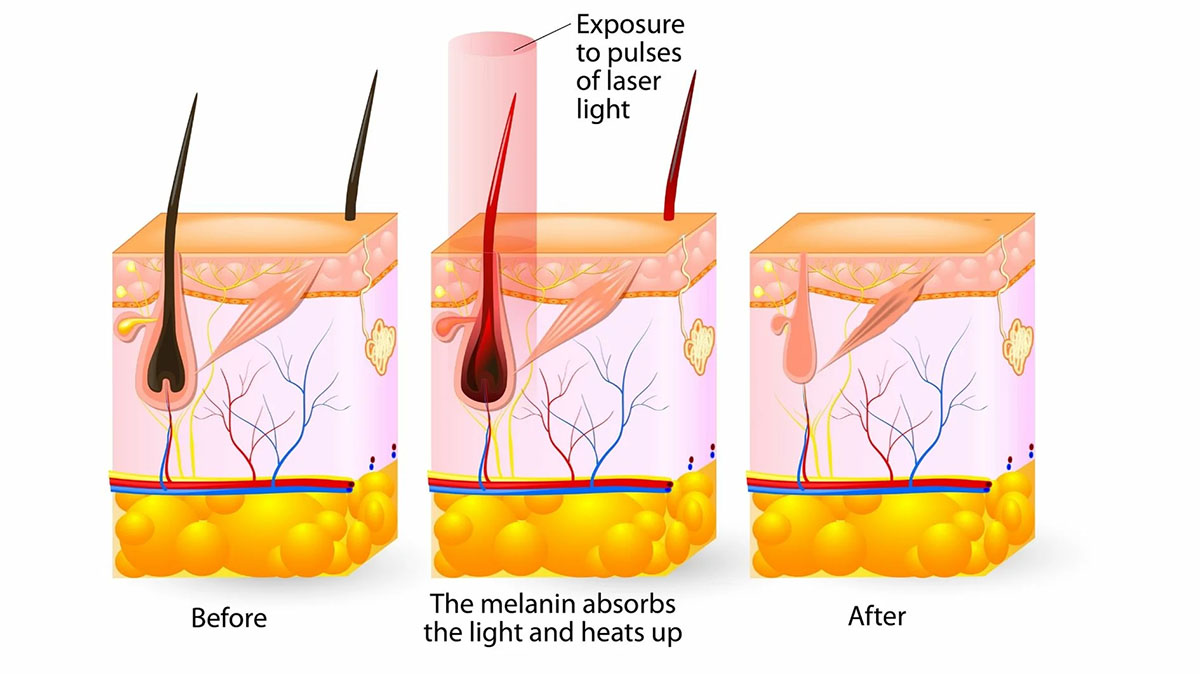 Laser hair removal typically requires multiple sessions spaced 4-6 weeks apart. This is because hair grows in different stages, and the laser is most effective when the hair is in the active growth phase (anagen). Multiple sessions ensure that as many hair follicles as possible are treated during their active phase.
What happens in a laser hair removal treatment plan?
Skin Assessment
Your laser aesthetician will assess the your skin type and hair colour to determine the appropriate treatment plan and quote. Different types of lasers may be used depending on your skin and hair characteristics. A tiny patch test will be performed to ensure that you have no adverse reaction to the laser energy. Your treatment plan can begin 7 days after the patch test.
Preparation
You should shave the hair in the area to be treated 1 - 2 days prior to your appointment. (Whilst you can shave the area on the day of your appointment - some people find that this makes their skin more sensitive to the laser energy.) During your course do not wax or tweeze your hair as these actions remove the roots of hair follicles which are needed for the laser to be effective. Avoid using perfumes and skincare on the area to be treated on the day of your appointment.
Treatment
Your aesthetician will assess the area to be treated to ensure it is not tanned and it is safe to treat. The area will then be cleaned and if necessary a razor used to reduce excess hair (if there is too much excess hair we will not treat you).
You will be given protective eyewear to shield your eyes from the laser's intense light. Your aesthetician will talk to you - explaining what is happening as the treatment is performed.
Our lasers have built-in cooling mechanisms to minimize discomfort. Some patients may still experience a mild stinging or snapping sensation, which is often described as similar to the snapping of a rubber band against the skin. However, this discomfort is usually well-tolerated and temporary.
Post-Treatment Care
After each session, you may experience temporary redness, swelling, or mild discomfort in the treated area. It's essential to follow aftercare instructions provided by your aesthetician, and emailed to you, on avoiding direct sun exposure and using sunscreen SPF50 on the treated area.We recommend you, avoid for 48 hours, using swimming pools, spas and saunas or placing on the treated area any skin sensitisers, such as perfume, alcohol, acid based skin care or jewellery that may rub.
Who can have laser hair removal?
Most people can have laser hair removal. Very dark skin shades require reduced energy settings, to prevent the risk of hyperpigmentation, and therefore more appointments maybe required to achieve the result. However, you can not have a laser treatment if any of the following apply:
The treatment area is tanned.
The treatment area has a tattoo.
The treatment area has open wounds or active acne.
You suffer with Psoriasis or Vitiligo.
You have used within the last 6 months:

Roaccutane
St John's Wart
Amiodarone
Minocycline
Gold medications
Anticoagulants

You are pregnant or breastfeeding.
If you suffer with herpes or cold sores you can have treatments when the condition is in remission, but the laser treatment may cause a flareup.
Any laser hair removal treatment requires there to be a follicle to target. If you've recently plucked or waxed the area, there won't be any. It's usually recommended that you wait two weeks before attempting laser hair removal. Alternatives like shaving or depilatory creams are great to bridge that gap between hair and laser results!
Why choose us?
Our lasers typically achieve a 80% reduction in hair growth in just 6 treatments for light to medium skin shades. As the laser hair removal service provider for NHS Lothian you can have trust in our high quality and standards.
We have two powerful Alexandrite and Nd-YAG lasers which can safely treat ALL skin types including Asian and Afro-Caribbean skin types:
Quanta Thunder MT with Scanner and Qool-Air
Candela GentleMax Pro with DCD Cooling
Both lasers are advanced medical grade lasers with superb performance in patient comfort and treatment outcomes. By default we will use the Quanta Thunder MT for laser hair removal because:
The mixed technology allows combined Alexandrite and Nd-YAG lasers to be used together improving treatment outcomes.
The new advanced Scanner automatically targets hair follicles improving accuracy, patient comfort and reducing the risk of complications from excessive pulse overlapping.
(1) and (2) combined allow larger areas such as backs to be treated more comfortably and faster.
However, sometimes the Candela GentleMax Pro will be used where:
It is difficult to use the Thunder's Scanner to treat the desired area.
The patient finds the Thunder's Qool-Air system uncomfortable in the area being treated.