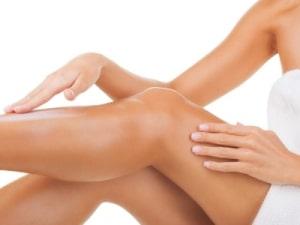 Update: With us now being in Lockdown 3.0, I thought I would re-share this blog as it may be of interest to you if you're getting a bit fed up of shaving and waxing, and are perhaps interested in learning more about laser hair removal, especially since now is the best time to get it to get you ready in time for summer and wearing less layers (can it come soon enough?!)
I hope you are keeping well and staying safe!  It's amazing what lockdown makes you realise - I'm sure you will agree that we take so many things for granted and it has been a real eye opener for me in so many ways.
It has been so interesting to read various articles about how celebs have been dealing with (or not dealing with!) body and facial hair during lockdown.  Some have come out and said that they won't shave their legs until lockdown is over, whilst refinery29.com did a great article on people embracing the hair growth with quotes like "my hair is wild and free".  I think 'good on them!' but I know that personally I would find that hard.
I also read other stories of ladies using depilatory creams on their bikini area and finding it only lasts for 24 hours before the stubble starts to come in!  Others have been using wax strips only for it to cause ingrown hairs in that area. I'm sure I can say for us all that those are not the outcomes we want?!  The best and most positive outcome was from a girl called Megan who declared "I've lasered it ALLLLLL!  What a great investment".
I really have to agree with her, and this has been reinforced in me even more since lockdown began.  I am so thankful for having had Laser Hair Removal on some areas of my body in the past and it highlighted to me the huge benefits of having this treatment done.  The fact that this treatment has extremely long-lasting benefits meant that I just haven't had to think about those areas at all during lockdown. On the other hand, I've had the relentless job of having to shave, every second day or so, those areas that I haven't had lasered.  So getting all areas treated is definitely on my to-do list once the clinic re-opens!
What about you? Is this the time to embark on a new journey to permanent hair reduction? With the fabulous Candela GentleMax Pro Laser the results are amazing!
The advantages are reduced ingrown hairs and irritation from waxing and other forms of hair removal, and permanent hair reduction in treated areas. In my opinion, the advantages go far beyond the tangible results. Having this treatment means that you have a lot more time for YOU, not to mention you're saving money from no longer having to attend regular waxing appointments!
The Candela GentleMax Pro Laser really is the gold standard of Medical Laser systems, offering a versatile dual platform laser which enables us to treat all skin types.  This laser works very fast and effectively, and has a built-in cooling system for the extra added comfort of the client.  The results are tremendous. 
For clients who have not had any Laser Hair Removal before, I would recommend a course of 6 treatments, spread over a period 6-9 months with 4-8 weeks apart, depending on the area being treated.  We can treat virtually any area although the most popular areas are legs, bikini, underarms, back and facial hair. Most of the time when clients embark on their Laser Hair Removal journey, they move on to other areas - as they are so pleased with the fantastic results achieved.
If you feel like you're ready to take the next step on your journey towards fuzz-free skin, book your consultation and patch test today!*
Derna x
*Please bear in mind that the area being treated must have been out of the sun for 4 weeks prior to your treatment date.
Author's experience
Winner of Aesthetician of the Year 2018 at the Scottish Medical Cosmetic and The Herald LOOK Awards is confirmation of Derna's expertise in laser and IPL skin rejuvenation treatments. With over 10 years experience working with lasers, Derna is a qualified STEREX Advanced Cosmetic Practitioner in the treatment of hair removal and skin blemishes, and has recently achieved Level 4 of VTCT (Advanced Cosmetic Procedures). You can be sure of outstanding attention to detail and service, and excellent results when you book a treatment with Derna.