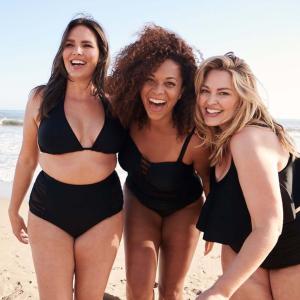 Picture the scene – you're lying on a beach of golden sand, soaking up the sun rays, listening to the gentle sound of the sea lapping at the shore with a cocktail in your hand. Sounds heavenly, doesn't it? So why then do you have a niggling feeling of worry every time you think about your upcoming summer holiday? 
Is it the thought of baring all in your beachwear? If so, it's perfectly OK to have those feelings. It's all just a matter of confidence. Something I and my team can help you with.
Practice these pick-me-ups
Body confidence is not about being a particular size or shape. It's not about striving to be 'perfect'. It's about feeling good about yourself. 
Of course, everyone's confidence takes a knocking now and again – that's life. But practicing self-care can be a great way to build yourself back up again. So, here are my top four instant confidence boosters:
Forget the numbers: Whether it's the pounds on your bathroom scales or the size on your jeans label, don't focus on the numbers. Instead, turn your attention to how you feel about yourself.
Pay attention to your posture: Stand in front of a mirror and see what a difference it makes to your overall appearance when you stand tall, straighten your back and push back your shoulders. The way you carry yourself can instantly impact the way you look and feel.
Focus on what you love about your body: Do your friends compliment you on your infectious smile? Your healthy hair? Your long legs? Embrace those compliments and try to see what they see.
Don't compare yourself to others: We are all different. You do YOU.
Empower yourself to take positive action
There are things about yourself that you can learn to love. And there are things about yourself that you can take positive action to change if you want to. If having an aesthetic treatment gives you the confidence boost you need to start looking forward to your hard-earned beach holiday, I say get it sorted and get excited!
Here are three treatments which might interest you as you prep for your summer getaway.
CoolSculpting®
If you're feeling a little nervous about exposing your tummy, flanks, thighs or arms on the beach because they're not quite as toned as they once were, CoolSculpting® could be the answer. With no surgery and little to no downtime, CoolSculpting® can help you achieve your body contouring goals. 
The process involves cryolipolysis to freeze fat cells in the treated area. Once destroyed, these fat cells won't return. Following treatment, your body will naturally eliminate the dead fat cells and the results can be fantastic.
"In an analysis of data from more than 1,000 people who underwent cryolipolysis, fat in the treated areas was reduced by about 25%, on average" (Ref 1).
I recommend you allow 6 months for the final results to show, so it's worth planning ahead if you've got a holiday booked later this year. That said, some of our patients have started to see results in as little as 6-8 weeks.
Laser hair removal
Who needs the hassle of organising a wax every few weeks? And who wants to take up valuable suitcase space with razors and shaving cream? Instead, opt for laser hair removal. 
It's ideal for legs, underarms and the bikini area. You'll see real results, 10% to 25% reduction (Ref 2), after the first treatment, although we find most people require 4-6 sessions to achieve over 80% permanent reduction. For these areas of your body, treatments should be spaced 6 to 8 weeks apart. We treat several hundred patients every year who are delighted with their results. Results do vary from patient to patient, but 89% of 1,331 reviews on RealSelf rate it as worth it! (Ref 3).
That means you could enjoy a fuzz-free summer holiday this year, and the next, and the next…
Sclerotherapy
Sarongs and kaftans are great for covering up as you lounge by the pool, but sooner or later they'll have to come off if you fancy a dip in the water. Put an end to fretting about visible thread veins on your legs with Sclerotherapy.
This safe and effective treatment involves a tiny needle which is used to inject a solution into your individual thread veins to make the vein walls sticky. After the treatment, you will be asked to put on a compression stocking to make the vein walls stick together. As a result, the veins will seal and naturally fade away. 
Studies show that "Sclerotherapy can be successful in resolving 90% or more of treated vessels. It is well tolerated, rapid... For some vessels it is clearly the best therapy available, and it is a valuable option for many others" (Ref 4).
I strongly recommend you avoid the sun and swimming pools for 2 weeks after each treatment to avoid any complications. Typically you will need 1-4 treatments at 6 weekly intervals.
Get beach body confident
Don't let body hang-ups hold you back from exploring and experiencing life to the full. This year, make it a summer holiday to remember for all the right reasons by booking in for a confidence booster with my team before you jet off. We can work with you to pinpoint your problem area and provide a personalised treatment plan to get you beach ready just in time for the holidays. However, don't leave it too late - as you will have noticed all these treatments need some planning.
Dr Victoria
Author's experience
A keen explorer, Dr Victoria has travelled across the globe to bring the very best aesthetic treatments to Edinburgh. With almost two decades of experience behind her, Dr Victoria has helped thousands of people find their body confidence and is experienced in all 3 of the treatments she has recommended.
References and resource links: