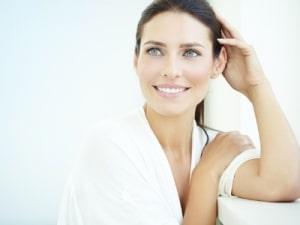 One of the most frequently asked question we get is 'How can I keep my face hydrated all year round'?
We have a vast wealth of knowledge and experience on how the skin functions and what is needed to help you prevent moisture loss, and so are well equipped to help you answer this commonly asked question. A solution? Hyaluronic Acid. This ingredient has been gaining buzz in beauty circles for the past several years and is a fantastic product to turn to if you're craving super hydrated skin that glows and oozes radiance.
What is Hyaluronic Acid?
Hyaluronic Acid (HA) is naturally produced by your body and found in your skin, connective tissues and eyes. Its main function is to retain water to help keep your tissues well lubricated and moist.  In fact, hyaluronic acid can hold up to 1,000 times its weight in water! This is why it's heralded as a miracle worker in keeping your skin plump and hydrated, whilst minimizing fine lines and other signs of ageing. You'll find it in skincare AND as the key ingredient in dermal fillers, which I'll discuss further on.
It's a pretty tricky word to pronounce and get the hang of but once you've mastered it you'll start seeing and hearing the word everywhere! It's very 'en vogue' at the moment and for good reason too – everyone that applies this clear, goo-ey substance to their skin will see huge changes to their skin health.
What's so good about it?
There are so many fantastic benefits to using hyaluronic acid in your skincare routine:
Intense hydration and moisture to skin

Improves skin elasticity and collagen

Reduction in inflammation to soothe irritation

Promotes even skin tone and flawless texture

Helps fight skin ageing

Antibacterial properties

Increased wound healing

Reduced risk of infection when applied to open wounds
 
My top tip? When using hyaluronic acid in skincare for the first time it's wise to introduce it slowly and see how your skin takes to it. If you have no issues, you can incorporate this wonderful substance into your daily skincare routine morning and evening after double cleansing your skin. There is no problem with the layering of products, just allow the product to absorb fully before moving onto the next step of your skincare routine. I love and recommend DRVICTORIA Sooth & Hydrate serum hydrator for the skin resulting in softer, smoother, younger-looking skin, 
What happens to your Hyaluronic Acid levels as you age?
Unfortunately, your body's level of hyaluronic acid will naturally reduce by around 50% as you age, sped up by over exposure to UV radiation from the sun, smoking and pollution. The loss in volume and elasticity caused by the depletion of your hyaluronic acid levels results in the formation of lines, wrinkles and folds in your skin, which is why applying it in your daily skincare routine is a great way to achieve healthy, vibrant skin.
A longer term solution? Profhilo®...
If you're looking for a longer term solution, Profhilo® is an injectable hyaluronic acid serum that is a favourite of Trinny Woodall and Alice Hart-Davis. Why? It gives you a very natural hydrated glow of young healthy skin. Profhilo® stimulates the production of collagen and elastin for plump, dewy skin with a healthy glow. Unlike most injected hyaluronic acid products, Profhilo® isn't a dermal filler per se. Rather than creating volume directly where it's injected, it dissipates throughout the skin, for overall rejuvenation. It won't change your face shape or erase deep wrinkles, but will make skin look smoother, brighter, and more youthful.
What's so good about Profhilo®?
Profhilo benefits all skin types and tones. It creates a "lit-from-within glow", with a luminosity that comes without a long-term commitment to a complicated skin-care regimen or artful makeup application. What's more, the treatment is quick—only 15 minutes—and has no real downtime.
How long does Profhilo® last?
Profhilo lasts in the skin for 28 days—much less time than with standard dermal fillers, but the two recommended monthly treatments align with the rate of cell turnover, for more long-term results. You'll benefit from increased collagen and elastin for six months after your treatment. To find out if Profhilo® is suitable for you arrange a consultation with Claire or Victoria.
Love,
Julie X