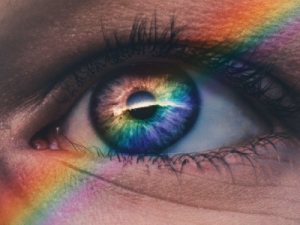 We're committed to offering a safe and welcoming environment for all of our clients.  We see a lot of diversity reflected amongst our clients, and so will work with you as an individual to reach the best outcome for you.  We understand the many challenges faced by the LGBTQIA+ community, and pride ourselves on being able to support them.  Often we advise on the management of unwanted hair and many other skin concerns which can be a challenge for so many reasons.
Having worked for Virgin Atlantic Airlines for 5 years as an in In-Flight Beauty Therapist, where I attended courses on diversity, and having many friends and colleagues who are LGBTQIA+, I am very passionate about diversity. 
Welcoming LGBTQIA+ patients
We aim to provide clear access to our treatments for unwanted hair and understand it can be a daunting and nerve-wracking road for many, perhaps not knowing where to go.  Not knowing what to expect.  Feeling worried or embarrassed. 
Our goal is also to ensure that we provide a friendly, professional and safe environment for you where confidentiality and privacy are our top priority, enabling you to feel comfortable and safe with a clear treatment plan pathway towards successful hair removal.   I have been working with Lasers and IPL's for over 10 years and can honestly say the Lasers here at the clinic are Gold Standard.
We have been carrying out these treatments for over 12 years now and so are extremely experienced in these areas, so much so that we are the hair removal service provider on behalf of NHS Scotland, offering both Laser Hair Removal and Electrolysis Hair Removal. It is hugely rewarding for us to be able to help and improve your confidence in what may be a life changing experience for you.
About the Laser – Candela Gentlemax Pro
The Candela Gentlemax Pro is a medical-grade Laser suitable for treating all skin types and with an in-built cooling system, it ensures your treatment is made so much more comfortable. This fabulous Laser is delivering brilliant results, with my transitioning clients having reported up to an 80% reduction in just 8 treatments:
'I've been so pleased with the results of my Laser treatment and surprised by how much of an impact it's had in just a few sessions. As a trans woman it's hard to describe how amazing it's been for my confidence. I don't think I'll ever get tired of appreciating how soft my skin is now! I was a bit apprehensive when I first visited but have always been made to feel comfortable and respected by Derna and the team. There's definitely a level of trust which is so important.' - Lucy*
Prior to the treatment, we carry out a thorough consultation and patch test where a treatment plan is created for you so you are clear and comfortable with how the treatment works, as well as what to expect during and after treatment. Laser Hair Removal is not suitable for lighter/grey or hairs with very little pigment in. This is where Electrolysis comes in!
About Electrolysis Hair Removal - STEREX
Electrolysis is successful for treating all types of hairs and colours and this is another safe, effective form of hair removal where a small very fine needle-shaped probe is inserted into the follicle, removing the root of the hair through the application of an electrical current. Personally, I've found that a combination of Laser Hair Removal and Electrolysis is very successful for my patients.
We are all here to welcome you to the clinic and help you on your journey to remove your unwanted hair or address any other treatment needs you may have. If you would like to book in for your consultation and patch test, just give us a call on 0131 226 9610. Looking forward seeing you!
Derna x
*Patient name has been changed for privacy.