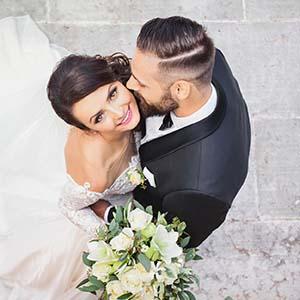 Big day, big pressure – I know this feeling well! I'm currently planning my summer wedding, and like all brides-to-be, I want to look my best. However, I'm aware this isn't something that's just going to happen overnight. Great skin can take weeks, sometimes even months to achieve. So if you're newly engaged, I recommend you plan ahead and start your prenuptial preparation as soon as possible. 
To make things easy, I've put together a timeline of treatments. Not all of these treatments will be suitable for everyone, and I'm not suggesting you have to have them all! But before you say 'I do', it's a good idea to read my do's and don'ts…
6 months before: Book your consultation
Once you've set the date for your big day, book a consultation at the clinic. Ideally, this should be 6 months before your wedding because it can take time for your skin to get used to new products and treatments. During this appointment, we'll discuss your current skincare regime and what you hope to achieve by the time you walk down the aisle – whether that be smoother skin, less wrinkles, a healthy radiant glow, or all of the above.
Wedding planning can be stressful, and we know that stress can be a trigger for physiological skin conditions such as acne (Ref 1). It can also have a psychologically effect too – you may feel stressed out and overwhelmed so decide to skip the gym, order a greasy takeaway, and generally take less care of yourself. Falling into these bad habits can exacerbate skin problems. 
So in the interest of self-care, plan ahead and book your skin consultation well in advance of your wedding day to reduce stress and avoid any last-minute panic, so you can actually enjoy the build-up to your big day.
5 months before: Chemical peels and microneedling
The average age to get married has risen to 35 for women and 38 for men (Ref 2). You could argue that this puts extra pressure on the couple to look good – many are keen to combat their visible lines and wrinkles before they are immortalised in their wedding photos. It's not about being a 'bridezilla', it's simply about wanting to look your absolute best – and that applies equally to brides and grooms. 
For this reason, many of my clients will come to me once they are engaged to enquire for the first time about treatments such as chemical peels and microneedling. 
To get the best results from a chemical peel, a series of treatments is required – usually 4-6 sessions spaced at least 3 weeks apart. I recommend leaving at least 6 weeks between your last chemical peel and your wedding day.
Similarly with microneedling, 4-6 sessions at least 4-6 weeks apart will give the best results – reducing the appearance of pores, scarring and stretch marks, and improving skin quality overall.
4 months before: Fillers
While fillers do give an instant result, remember there can often be a lot of preliminary swelling to the area. This will usually settle within the first 2-3 days, however some swelling can linger for around 2 weeks. It can then take up to a month for the filler to fully integrate into your tissues, and for any small lumps to smooth out. 
Add into this the time needed to make small adjustments or tweaks, and you don't want to leave these treatments to the last minute!
3 months before: Facials
Give yourself at least 3 months before your big day to start getting facials. Book your last facial the week before your wedding to give one last boost to your skin and be consistent – never opt for something brand new right before your wedding.
6 weeks before: Anti-wrinkle injections 
Anti-wrinkle injections won't start kicking in for about 2-3 days, and the full effects won't be seen until around the 2-week mark. At this stage, I can review how it's all looking and make any tiny adjustments if necessary. Anti-wrinkle injections overall last around 12 weeks, so by 6 weeks, the treatment will have had time to fully settle, giving you the best effect on your big day.
The night before
My best advice for the night before is to avoid alcohol because being hungover can leave your skin dehydrated and looking puffy. Instead, have a nice meal, relax, and get a good night's sleep – there'll be plenty of Champagne tomorrow!
The big day
Wedding days are long! But if you've got a good skincare regime in place, your radiant glow will last right through until the end of the reception. Use a compact mineral SPF to touch up your face throughout the day and spritz with a toner to cool and refresh if you're starting to perspire on the dancefloor.
Don't forget the honeymoon 
Heading off somewhere exotic? Remember to stay hydrated and wear sunscreen. It's also a good idea to take a vitamin C supplement to further protect the skin from photo damage caused by ultra-violet rays (Ref 3). That way you won't ruin all the hard work you put into your pre-wedding skincare routine.
Book your pre-wedding skincare consultation now
If you're newly engaged and would rather be a glowing bride than a blushing bride, book your consultation now.
Emmaline
Author's experience
Dr Emmaline's extensive training and wealth of experience in aesthetic injections, chemical peels, skincare and dermatology allows her to share the best planning preparation for your wedding by providing accurate timescales for you achieve the outcomes you want for your big day.
References and resource links: