Sometimes, you can be doing all the right things – sleeping well, eating a balanced diet, cutting out all the nasties – but the mirror sadly doesn't reflect all your good work. This can be particularly true for the area under your eyes, the tear trough, which can begin to look sunken, dark and tired as you age. The good news, however, is that a simple tear trough filler treatment can add lost volume and help you regain that youthful, fresh-faced look. Read on to discover how it works and whether it could be the right treatment for you.
The real reason you look tired
The tear trough is the area of the face located beneath the lower eyelid and above the cheek. It is a natural depression that can become more pronounced with age, leading to an appearance of dark circles or sunken eyes. This depression can also become more visible due to thinning of the skin in this area, loss of cheek fat and bone density, and genetics. Sadly, no amount of quality sleep can counteract this.
No need for tears, thanks to this successful solution
Over time, most people notice hollowing under their eyes or pronounced eye bags, making them look more tired and older than they feel. It can be disheartening and can have a real effect on confidence, but thankfully there is a solution. 
This area can be successfully treated with fillers to add volume and plump the area, to reduce the appearance of hollows, bags, and dark circles. "The product most often used in this area is one typically made of hyaluronic acid, although other ingredients may be used. Hyaluronic acid is a gel-like substance that naturally exists in your body. When injected into the skin, hyaluronic acid increases fullness and decreases indentations" (Ref 1).
A tiny amount of volume can be added to the actual tear trough. Equally important, is supporting the loss of volume in the cheeks which often contributes to the appearance of the under-eye hollowing.
What happens during a tear trough filler treatment?
Before any treatment, you will have a thorough consultation with a medical professional to decide if this treatment is right for you. 
Then, your injector will explain the treatment plan to you and mark out the area to be treated. It is important to understand that the tear trough is a delicate area, so to avoid any puffiness being added to the under-eye area, we underfill the hollows.
Your skin will be cleansed with anti-septic liquid and a small needle will be used to create an insertion point on either cheek. The entire cheek and tear trough area can be treated with a cannula through this insertion point. A cannula is a long, thin tube that minimises the risk of bruising or swelling, and is the safest way to treat this area.
Following treatment, over the next four weeks, the hyaluronic acid draws in water to subtly plump the area. The final results are visible at your four-week review. Below are photos from treating Jillian's tear trough, showing before and immediately afterwards, so she's going to have a wonderful result.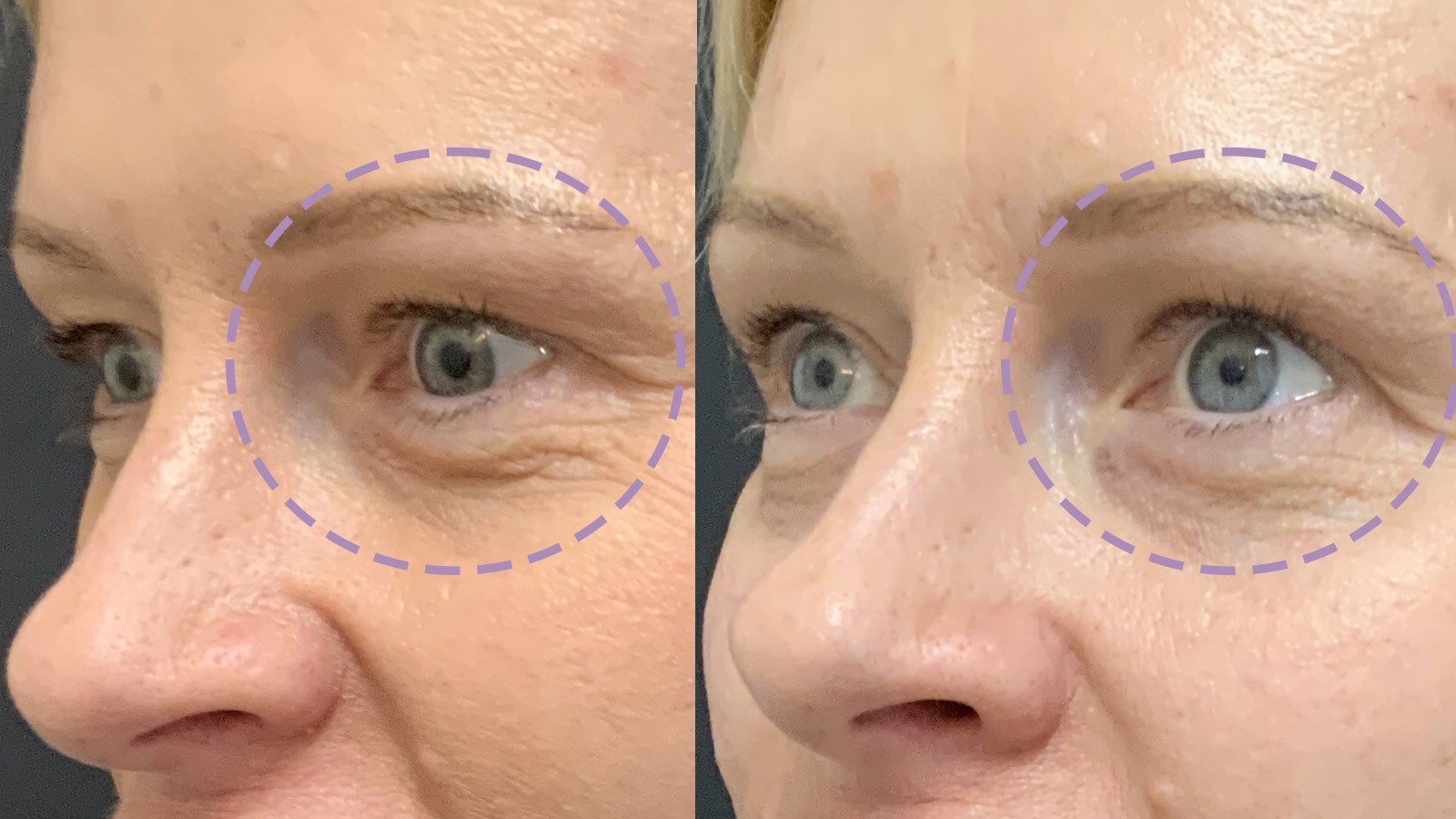 The need-to-know info
Tear trough filler treatments can be highly successful but it is important to be aware of some potential risks, including:
Bruising and swelling at the injection site
Infection
Allergic reactions
Lumps or bumps under the skin
Asymmetry
Vision problems, if the filler is injected too close to the eye
To reduce the risk of complications, it is important to choose a qualified and experienced injector who is well-versed in the anatomy of the face and the specific characteristics of the filler being used.
It is also essential that you follow the injector's instructions for pre- and post-procedure care. Finally, it is crucial that your expectations are realistic and you fully understand that there is a risk of complications with any cosmetic procedure.
What's the alternative?
One alternative available at the DRVICTORIA™ Clinic is PRP therapy, also known as platelet-rich plasma therapy. This therapy uses the patient's own blood plasma, which is rich in platelets, to promote healing and rejuvenation of the skin. This thickens the collagen in the under-eye area, and naturally reduces the hollows over time. You may need multiple sessions but the results can be amazing.
Find the right treatment for you
Everyone is different, so it is essential that you get the right treatment for you. Book a consultation at DRVICTORIA™ Clinic where we can have an in-depth discussion about your problem areas, hopes and expectations. If tear trough fillers are suitable, we can go ahead with the treatment and in four weeks you'll be looking naturally fresh-faced once more.
Dr Emmaline
Below is a short video showing me doing a tear trough treatment.
Author's experience:
Dr Emmaline extensive post-graduate training, including a Master of Surgery (Hons) with a research dissertation in plastic surgery from the Royal College of Surgeons Ireland and a Professional Certificate in Clinical Dermatology from University College Dublin gives her deep understanding in facial aesthetics. She trained in tear trough dermal filler treatments with plastic surgeon Mr Taimur Shoaib.
Reference links:
Ref 1: Healthline, Undereye Tear Trough Filler: What You Should Know, 2022
Resource links: