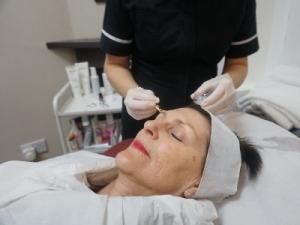 You might feel like hot, sunny holidays abroad happened in another lifetime. However, those relaxed, sun-filled days by the pool may have left behind souvenirs in the form sun spots and freckles which often become more noticeable even in a Scottish summer!
So, if you are you are experiencing uneven skin tone – relax as I explain how the PhotoFacial is the perfect hyperpigmentation treatment to get your skin back to being blemish free. But first, what is hyperpigmentation and how did you get it?
Hyperpigmentation affect people of all skin types
Unprotected sun exposure, ranging from tanning to simply being out and about, begins to have a visible effect on your skin complexion in the form of hyperpigmentation.
Pigmentation refers to the colouring of your skin and hyperpigmentation is the term used to describe areas of uneven pigmentation (or simply uneven skin tone). This occurs when your skin produces more melanin in the areas of your face and neck which appear as darkened patches such as freckles or sun spots.
Whilst hyperpigmentation can be the result of hormonal changes, excessive exposure to the sun is the main cause, since it is sunlight that produces melanin in your skin. Melanin acts as your skin's natural defence to harmful UV rays, which is why you tan. Once your skin has these dark spots, the sun further exacerbates them by making them darker, especially during summer months.
Of course, everyone wants the smooth even skin tone of our youth. Two great solutions for restoring even skin tone are IPL, also known as Intense Pulsed Light, and chemical peels which we have combined to make a 2-in-1 highly effective facial.
How does the PhotoFacial work?
The PhotoFacial combines the power of an chemical peel for light exfoliation with light therapy to reduce the melanin patches to remove uneven skin tone and create plumper skin all in one effective treatment.
Your facial starts with a chemical peel containing either Lactic or Salicylic Acid, tailored to your skin type to prevent any shedding or peeling afterwards. This peel is great for resurfacing and targeting any pigmentation you have closer to the surface of your skin.
A layer of chilled gel is then applied to the skin for comfort as place the IPL light guide onto your skin. Short pulse of IPL light are then used to penetrate through to the second layer of your skin and target the areas of sun damage without impacting the top layer. The peel works in synergy with IPL by making it easier for the light to penetrate your skin, having removed dead skin cells lingering on the surface, thus making the treatment more effective whilst leaving you with healthier, fresher looking skin.
Combining both addresses many skin concerns as you are essentially working on two different levels; the IPL is penetrating to the deeper layers of your skin to reduce pigmentation and other signs of sun damage as well as stimulating your fibroblasts for collagen and elastin for skin rejuvenation. Whilst the peel works to brighten your skin, encourages collagen production and reduces pigmentation on the surface of your skin.
How often should you have a PhotoFacial for best results?
To reduce sun damage imperfections and attain a more youthful-looking glow, I would recommend a PhotoFacial once per month to get the best results. Consistency is key when it comes to treating sun damage!
There is no visible peeling or irritation associated with this treatment, which means you can get back to normal activities right away. However, your skin may be slightly red for the 24 hours and you may experience dryness for a couple of days – so I would recommend having the treatment a fortnight before any big event. You can book your PhotoFacial consultation here.
Mhairi
Aesthetician
Author's experience:
Mhairi has over 3 years' experience in skin and light therapy treatments. She is qualified in chemical peels, IPL and laser advanced skin treatments.
References and resource links:
1. Wikipedia on Hyperpigmentation
2. Consulting Room on chemical peels
3. Consulting Room on IPL