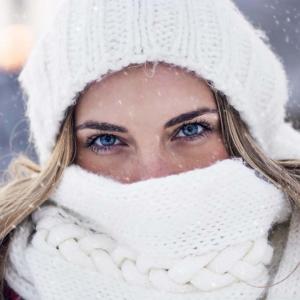 So long, summer! How many of you have been forced by the recent on-set of howling winds and driving rain to reluctantly dig out your knitwear and waterproofs? Or perhaps you've embraced the changing seasons as a good excuse to head out on a winter wardrobe shopping spree? Whatever your feelings about this time of year, the transition to an autumn / winter wardrobe is one we all make without question – you adapt your attire in accordance with the changing weather to protect yourself from the elements. It's common sense. But have you considered a seasonal switch-up to your skincare too? 
Here we explore why now is the optimal time to adapt your skincare routine in response to the increasingly cold weather. And we reveal the best products, treatments, and habits to adopt ASAP to ensure you're glowing throughout autumn, into party season, and beyond.
The real reason you've lost your summer glow
Many people with existing skin conditions experience noticeable flare-ups around this time of year. And even those without a diagnosed problem often find their skin starts to look a little dull, dry and lacklustre as we move into autumn/winter. The reason? Extreme temperature changes and reduction in moisture. 
Moisture in the skin, in the form of water and natural oils, helps to enhance its protective barrier function. When the skin loses too much of this moisture during the colder months, problems arise. One of the most common issues I see during the colder season is rosacea flare-ups.
The British Association of Dermatologist describe "rosacea as tending to affect the cheeks, forehead, chin and nose, and is characterised by persistent redness caused by dilated blood vessels, small bumps and pus-filled spots
similar to acne." (Ref1)
Sadly for many sufferers, these symptoms become more intense as the weather changes, and many of my clients report an increase in redness, dryness, itchiness and sensitivity. Whilst rosacea cannot be cured – changes to habits and treatments can be very helpful.
Simple habits to soothe your skin
Skin problems are often exacerbated in the winter when going from one extreme temperature to the other – from the cold outside to the warmth of a home where the central heating is on full blast, for example. Central heating reduces humidity in the air which has a negative impact on your skin barrier function, therefore causing you to lose essential moisture, leading to dryness. 
For this reason, Dr Anton Alexandroff of the British Association of Dermatologists recommends turning down the heat. "Consider turning the thermostat to a lower temperature: 16C-18C is best. If you can, invest in a humidifier, which puts moisture back into the air" he wrote in a recent article for The Guardian (Ref 2).
For similar reasons, it's best to avoid a long soak in a hot bath after being exposed to the elements. Doing so can disrupt your skin's natural moisture balance and leave the skin dry, flaky and even cracked, or in some cases, can cause the skin to overcompensate with an overproduction of oil which can then lead to clogged pores. It is therefore best to opt for a lukewarm temperature, minimise time in the bath, and use a mild, fragrance-free cleanser.
These extreme temperature changes also cause vasoconstriction and vasodilation of blood vessels which can lead to broken capillaries, so even if you don't suffer with rosacea you can get facial redness.
Products to see you through autumn, winter and beyond
First and foremost, if your skin is starting to feel sensitive, ditch the harsh exfoliants and strongly fragranced products, and instead focus on replenishing lost moisture. For this I would recommend choosing one of either:
DRVICTORIA™ Soothe & Hydrate – a hyaluronic acid serum for deep skin hydration which with regular use will help to protect your natural skin barrier.
DRVICTORIA™ Ultra Hydrate – a lightweight and fast absorbing serum with 4 in 1 hydration to make your skin soft, supple, and ultra-hydrated for up to 72 hours.
Then combine this with DRVICTORIA™ Radiance C10 – a 10% Vitamin C cream to strengthen collagen and an antioxidant and then progress to 20%.
The next product might surprise you – sunscreen! Even on the dreichest of days, harmful UV rays can be damaging your skin, so it's essential you continue to apply your sunscreen throughout autumn and winter. That said, it's safe to switch your usual summer SPF50 for a SPF30 alternative but remember to apply it correctly.  Remember UVA are prevalent all year round and cause deep down DNA damage.
Think again if you are doing winter sports - as the Skin Cancer Foundation points out - "UVB rays can burn and damage your skin year-round, especially at high altitudes and on reflective surfaces such as snow or ice. Snow reflects up to 80 percent of the sun's UV light, so the rays hit you twice, further increasing your risk of skin cancer and premature ageing." (Ref 3).
Finally, a lip balm applied regularly throughout the day will help to prevent chapped lips and if at high altitude consider one with SPF.
Top treatments for a winter skin boost
Despite updating your bathroom cabinet with these winter essentials, you may find your skin could benefit from an extra boost in the coming months. 
For those suffering with seasonal rosacea flare-ups as mentioned earlier, I highly recommend an IPL Skin Rejuvenation treatment which will help to reduce your redness and calm the symptoms.
For others the Anti-Ageing HydraFacial is the perfect solution for when your natural summer glow is just a distant memory. This facial will clear out your pores and Dermabuilder Peptide Complex and Antioxidant Serum will clam your skin and hydrate it. There is also the option to add a Hydra Lip PERK to rejuvenate your lips with comes an SPF30 lip balm.
Why timing is everything
The old adage, 'Prevention is better than cure', is so true. Don't wait until the depths of winter when the icey winds have already wreaked havoc on your skin. It's best to plan ahead and prep your skin to help maintain your moisture defence levels. 
Book in for a skin analysis with me or my colleagues and we'll determine which products and treatments are most appropriate to ensure your skin continues to glow, no matter how low the temperature plummets this winter.
Take care
Derna
Author's experience
Derna is a multi-award-winning aesthetician with 22 years in the beauty sector and 11 years in aesthetics treating all manner of skin conditions. She is passionate about the confidence-boosting benefits of a healthy glowing skin, which she helps our clients achieve thanks to her expert advice and personalised recommendations.
References and resource and links