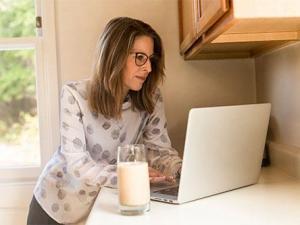 UPDATE: Who knew that almost a year down the line these WFH Top Skincare Tips would still be relevant? I'm sure you've got your WFH situation nailed by now but it can definitely be easy to forget some key things that will help improve your skin health at the moment. I have updated some of our suggestions below.
Like many my working from home (WFH) is in the kitchen juggling video calls with colleagues and the pros (and cons!) of unlimited trips to the fridge… this routine does feel a bit overwhelming at times. However, WFH also means no make-up days and less exposure to pesky pollution. So why not use this time to give your skin the proper TLC it needs? Together with team members - I have collated and updated together some key skincare tips if you're (still!) WFH.
You still need to cleanse
It's super important to cleanse your skin both morning and evening (even if you're going make-up free!) to prevent build-up of dead skin cells and sebum.  In the morning, it's important that you wash off any active ingredients that you applied the evening before. This allows your skin to go through cell renewal faster in the evening, to enable your skin to easily absorb your morning products effectively. In the evening, it's essential to double cleanse to fully remove any make-up, SPF. We recommend using DRVICTORIA™ CLEANSE followed by REVEAL for a thorough double cleansing routine.
You still need both SPF and the sun!
Even though you may be spending most of your time indoors, it's vital to protect your skin from harmful UVA rays that penetrate the windows and contribute towards premature ageing. Of course, sun protection is even more important when you're heading outside for your daily exercise!  UV rays reach your skin no matter the weather, and are reflected off the snow increasing your exposure, so it's very important to apply at least SPF 30 everyday to prevent skin damage. 
If you can, try and make the most of being outside whether it's during your daily form of exercise or just sitting in your garden.  Whilst it's important to be careful of too much sun exposure, you do need the vitamin D your body produces with sun exposure to help your body absorb calcium and phosphate in your diet. These minerals are essential for maintaining healthy bones, teeth and muscles. Research also indicates that vitamin D plays an important role in helping fight Covid as well as regulating mood and warding off depression. When it comes to sun protection, you should choose a product that offers broad UVA and UVB protection; we recommend Heliocare which has a formulation no matter your skin type. 
You have an opportunity to achieve clear skin
WFH is a great time to tackle problem areas such as annoying spots and breakouts that you may usually just conceal with make-up as a quick fix! We firmly believe that when your skin looks good, you feel good! Ensuring you double cleanse in the evening is important if clear, glowing skin is your goal.  If you regularly use Glycolic or Salicylic wash, like DRVICTORIA™ REVEAL, perhaps leave it on for a minute or two extra, two to three times per week to give you a little extra exfoliation. If you are suffering from Mask-ne, then check out the Mask-ne pack we have created.
Remember a good diet helps feed and fortify your skin from within - why not try some skin-boosting recipes ideas like the ones here. Why's it important to have a good diet? Older skin cells are continuously shedding and renewing, and so fuelling yourself with key nutrients is vital to help support this growth.  By ensuring you eat fruit and vegetables rich in antioxidants, healthy fats from oily fish and nuts, and a generally healthy, balanced diet, you're giving your skin what it needs to thrive.
Stay hydrated
It's easy to forget to hydrate when WFH. You need around 2 litres of water a day to keep your body in good working order.  Keep a water bottle near your working space and keep sipping regularly – I love adding fresh fruit and mint to add a bit of flavour. It'll become a habit in no time and it's sure to improve your skin. Our Visia skin analysis machine at the clinic has regularly shown improvements in fine lines when the client has improved their hydration levels.
Alternatively, if water isn't your thing, why not try a nutrient dense, hydration-boosting smoothie? This delicious green smoothie recipe comes with a kick, and is a great, tasty way to get your nutrients in as well as keeping you hydrated. Bottoms up!
Get moving!
It may not (exactly) be skincare related, but it's important to make sure you move your body throughout the day, especially if your work means you're sitting down most of the time. If you're able to leave the house for your daily exercise – well done! If not – don't worry about it.  Why not leave your workstation every hour to stretch your legs, even if just for a few minutes? You could add a few squats and lunges in, or even just put your favourite song on for a 4 minute boogie. Endorphins and that post-exercise glow...tick.
Following these tips will be a sure-fire way of ensuring your skin and body are getting the attention they need whilst you're WFH. If want to ask any questions drop us a message via Facebook Messenger; you can also follow our social media channels for more updates. 
Take care! 
Samantha