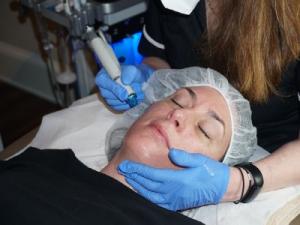 Picture this. You're getting ready for an important event when your eyes are drawn to small black bumps around your nose and chin. It's at this moment that you curse the formation of these blackheads, and ask yourself why you have to have them! You wish you could have a quick fix to eradicate these beauty bugbears and live your life blackhead-free. But what are blackheads and is there really a quick fix to get rid of them?
What are blackheads & why do you get them?
Blackheads are a common concern that can occur any time of year. During summer when skin can be oilier due to warmer temperatures, the build-up can lead to clogged hair follicles which causes blackheads. Conversely during colder months, the skin can become dry and irritated, causing it to overcompensate by producing excess oil, which can also cause blackhead flare-ups.
When dead skin cells become trapped in your hair follicles they combine with a build-up of excess oil and make-up products often creating clogged pores that lead to pesky blackheads.  It's a common misconception that blackheads are black because they are filled with dirt. However, they are actually black because the oil within the pores oxidises and turns this colour.
Never squeeze blackheads
If you squeeze your blackheads to get rid of them – please stop!  Pressing and squeezing with nails or tweezers could damage your skin as well as spread bacteria and acne formation beneath the skin across a wider area. Furthermore, your fingers are a breeding ground for dirt and bacteria which you do not want coming into contact with your skin.
As a preventative measure, we always recommend Double Cleansing your skin. This is something you can do every day to keep your skin clean and fresh, minimising any build-up of products that might occur on your skin. What's Double Cleansing, you ask? Simply put, double involves using two different types of cleansers, one right after the other at the end of your day. It's important to remove the build-up of dirt and environmental pollutants at the end of your day as if you don't thoroughly cleanse your skin at night, you will experience two problems:
The build up dirt will increase the likelihood of breakouts and skin infections. Your active skincare products will not be able to penetrate your skin and deliver the benefits you desire. By cleansing your skin twice, you are removing that top layer of built-up products and dirt and giving your skin a 'clean slate' for the rest of your skincare routine to work effectively. You can purchase our Double Cleanse skincare set here.
How HydraFacial can help you
HydraFacial gives you a thorough, deep cleanse using its patented Vortex technology to extract from your pores (even those in tricky to reach areas!) and infuses your skin with nutrient-enriched serums, leaving you with healthy, glowing skin. You can even see the 'Gunkie' containing all your blackheads at the end of your treatment – satisfying or what? As well as removing your blackheads, this comprehensive facial can clear oily and congested skin, create a more even skin tone, minimise pores and give you intense hydration. Hello healthy, glowing skin!
If you want to see the best results, you're always better visiting one of our Aestheticians than trying to remove blackheads yourself. Book your HydraFacial today and experience the transformational effects of this amazing treatment.
Hannah Holmes
Aesthetician
Author's Experience
Hannah has over 3 years experience in providing skincare treatments and is qualified in HydraFacial, chemical peels and IPL skin rejuvenation treatments.
References and resource links
 HydraFacial official website
Honest Channel Review
Delighted to update my post with this review from Clare Johnson of the Honest Channel. Watch to get an in-depth insight into the HydraFacial see me explain things and hear about Clare's experience...