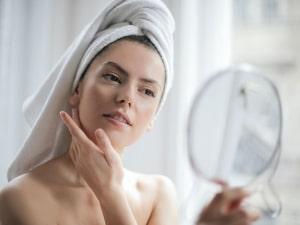 Your New Year's headache will have long worn off by now, but is your skin still suffering from a hangover of its own after the festive period? A month of having a 'treat yourself!' attitude may mean that your healthy habits fell a little by the wayside, with an increase in alcohol, food and late nights the norm. Now…there is absolutely nothing wrong with this – I'm sure we all needed it after the year we had(!) – and it can be remedied. If you've entered January with skin that is spotty, blotchy, red or just plain dull, you might want to try out our top tips to detox your skin. 
What Happens To Your Skin When You Overindulge?
Post-festive skin troubles are the result of a combination of factors including:
•    Consuming more sugary and processed foods than you normally would.
•    Drinking more alcohol than you normally would.
•    An increase in dairy consumption
•    Getting less sleep than normal
•    Increase in stress levels ("Where is my parcel, Hermes?!")
These things all contribute to an increase in inflammation in your body causing an increase in stress hormones. As well as triggering weight gain, digestive problems, lethargy and poor sleep, it can also wreak havoc on your skin with spots, redness and dullness amongst other issues the result. 
Tip 1: Hydration is key! 
You may have consumed more alcohol than you normally would which can dehydrate both your body and your skin, leaving it looking lacklustre and dull. You might notice your eyes have dark circles, your face looks puffy and fine lines are more noticeable than normal. To combat the effects of dehydration, we recommend drinking 1.7-2L water per day. Coconut water is especially good for helping to hydrate.
Tip 2: Nourish From Within 
You probably have a favourite serum or treatment, but it's true that having healthy, glowing skin begins with nourishment from within. Older skin cells continuously shed and are replaced by younger ones and so fuelling yourself with key nutrients is vital to support this rapid growth. 
You can level-up your diet by making sure you eat fruit and vegetables rich in antioxidants, healthy fats from oily fish and nuts, and a generally healthy, balanced diet. This should give you optimal levels of the nutrients that are crucial for radiant skin, such as vitamins A, C and E, zinc and selenium. By consuming a healthy diet, you're giving your skin what it needs to function in tip top condition, helping it to stay smooth, glowing and spot-free. If you need a little help getting your nutrients in, the Advanced Nutrition Programme Pro-Vitality supplements are perfect in supporting both a healthy mind and body.
Tip 3: It's Called Beauty Sleep For A Reason 
Is there anything worse than being told 'you look tired'? Lack of sleep can contribute towards dull, sallow skin and the dreaded dark circles under the eyes. Ensuring you get plenty of sleep will enable your body time to restore and revive your skin, since it is overnight that your skin works hard at repairing and rejuvenating.
It's recommended that an adult gets around 8 hours of sleep each night so make sure you're not missing out on precious beauty sleep by 'Doomscrolling'. Unwind with a book, bath and some candles before bed to prepare your body and mind for a lovely, refreshing sleep.
Tip 4: Treat Your Skin
Using skincare with active ingredients appropriate for your skin type is key to nourishing your skin. Enhance your post-festive period healing with these simple ingredients that you can easily add into your daily routine:
Salicylic or Glycolic Acids help by gently exfoliating your skin and cleansing your pores, whilst minimizing inflammation. DRVICTORIA™ REVEAL is a fabulous foaming 5% Glycolic and 2% Salicylic acid wash that removes the build-up of dead skin cells, impurities and excess oil.
Vitamin C is a key anti-ageing ingredient that you should add to your skincare routine to improve dull, drab skin. DRVICTORIA™ RADIANCE is a skin brightening serum with 10% Vitamin C to promote collagen production, skin plumping, even skin tone and help create glowing skin.
Hyaluronic Acid helps to hydrate and plump dry, dehydrated skin. DRVICTORIA™ SOOTH & HYDRATE Hyaluronic Acid serum is a powerful hydrator for the skin resulting in softer, smoother, plumper and younger looking skin.
Tip 5: Getting Professional Treatments
If you feel like your skin needs some extra TLC, professional skin treatments can help accelerate your skin's detox by boosting cell turnover and repair. Whether it's getting a medi-facial to improve your skin's hydration, tone and texture, or something a little more intense such as electrolysis, IPL or laser treatments to remove skin imperfections and blemishes, visiting a skin clinic can work wonders! 
We are here to help you with your skin goals, whether that's advice or a treatment plan, so book your consultation for when we re-open. We're offering virtual consultations for skincare whilst the clinic is closed, so get in touch by emailing us (enquiries@drvictoria.co.uk) if this is something you're interested in. New year, new skin!
Becky
Aesthetician 
Author's experience 
Winner of Aesthetician of the Year 2017 saw Becky recognised for her incredible skill as a laser expert for removing hair, pigmentation, tattoos and facial redness and as a STEREX Advanced Cosmetic Practitioner for treating skin blemishes. She is qualified by AlumierMD and Lynton in the delivery of their products and has a CIBTAC Level 4 in Advanced Skin Science.