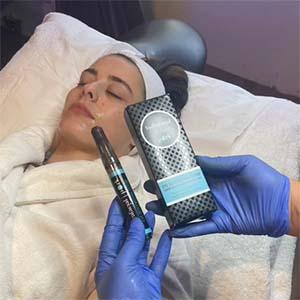 Being in my late 20s I know how exciting and full-on life is as you transition into your 30s. For some of you, it's about living life to the full, partying with friends, travelling and experiencing new things. For others, it's about working hard to get ahead in your career. Perhaps for you, it's a time for settling down, making a home, and starting a family. And of course, I have plenty of friends trying to do all the above, all at once!
Whatever path you're on, life in your 20s and 30s can be stressful and exhausting at times. So, it's no surprise that this is when you start to notice the first signs of ageing. It's completely normal and natural, but that doesn't mean you have to just accept it. That's why I love the brand-new treatment at the DRVICTORIA™ Clinic – the HydraFacial® HydraEye.
The first tell-tale signs of ageing
As you transition into your 30s you'll start to notice your skin ageing, "Characterized by features such as wrinkling, loss of elasticity, laxity, and rough-textured appearance" (Ref 1). Where there was once smooth skin, it's all change, most often around the eyes. This area also tends to sag and droop as the eyebrows descend and the skin becomes thinner. The reason being your collagen production is starting to slow down and it's becoming harder to achieve that wide-eyed sparkle you've taken for granted up until now.
Intrinsic versus extrinsic ageing
This wrinkling and drooping affect is sadly a fact of life, "Our genes largely control when these changes occur" and it is referred to as intrinsic ageing (Ref 2). But our environment and lifestyle choices can also cause our skin to age prematurely. The medical term for this type of ageing is extrinsic ageing. The good news is that by taking action, we can slow the effects that this type of ageing has on our skin.
Healthy habits to live by
If your reflection in the mirror is looking a little tired, start taking good care of yourself now and your skin will thank you in 5, 10 and 20 years' time. It's all common-sense stuff:
Drink plenty of water
Remove your makeup before heading to bed
Use a moisturising night cream
Get a good night's sleep
Wear SPF everyday
Don't smoke
Wear sunglasses in the sun
Eat a balanced diet
But to give your eyes that extra boost, try our new HydraFacial® HydraEye treatment.
Introducing the HydraFacial® HydraEye
If you're starting to see the signs of crow's feet and dark circles, we've got a treatment that will add instant brightness and tightness to your eye area. The HydraFacial® HydraEye combines HydraFacial® with EndyMed 3DEEP™ radiofrequency to hydrate your skin and stimulate collagen formation for a lifting effect in 5 steps:
It starts with lymphatic drainage therapy to help remove waste and toxins accumulated around your eye area. This involves high pressure suction and massage which drains the lymph nodes to improve blood circulation, reduce puffiness and dullness. 
Next, we cleanse and exfoliate using a special mix of salicylic and glycolic acids to break up the dirt and oil clogging your pores. This is then sucked out by Vortex Extraction. 
After that, we use EndyMed 3DEEP™ radiofrequency technology to to lift and tighten your skin in the eye contour area, under the eye and above the brow. It works by rejuvenating and creating strong collagen and elastin fibres which result in tighter, smoother skin.
This is followed by the HydraFacial® Vortex Fusion which we use to apply an antioxidant serum to calm and hydrate your skin. 
Finally, we apply the HydraFacial® PERK Eye to boost the skin in your eye contour zone. And it doesn't stop there – we give you the PERK Eye to take home so you can maintain results for 30 days.
Who, what, where, when
Anyone can have this treatment, regardless of their age. Whilst it is best suited to those in their 20s and 30s noticing their first lines and wrinkles, someone in their 50s with more established wrinkles can use HydraEye to compliment the results they get from anti-wrinkle injections. 
It is suitable for all skin types, and with no downtime (just a little pink colour to the skin which usually goes away after just 10 minutes) you can see the results immediately. 
We practice what we preach
During training at the clinic, we all got to experience it for ourselves. Team consensus was a big thumbs up! As it is such a relaxing treatment with the warming radiofrequency step feeling similar to a soothing hot stone massage. Everyone noticed an immediate firming and brightening effect, and we're all now avid fans of the HydraFacial® PERK Eye, which we're applying daily.
I love it and I'm confident you will too!
To find out more about HydraFacial® HydraEye - book your appointment.
Hannah
Here is a wee video I made with Toni during our practice sessions which shows the HydraEye steps.
Author's experience:
Aesthetician Hannah is passionate about great skincare. She believes everyone can enjoy radiant skin, whatever their skin type or concern, and she makes it her mission to find the right facial and the best products to suit the individual.
Reference and resource links: