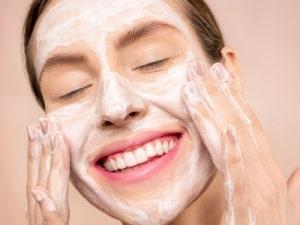 When it comes to skincare, how do we know which products go in which order? Does it really matter? Most of us know the basics well - cleanse, tone, moisturize. However, add in double cleansing, serums, eye creams and it's tricky to know what goes where, when! Add in a second serum and it can feel even more overwhelming...
A lot of my clients have been asking me about the best order to apply their skincare routine. So, below is a general guide - but please remember if you have specific instructions from your therapist then you should follow those. 
Morning routine
Start Clean: Cleansing first thing in the morning with a facial wash or cleanser is a very important step. Especially, if you are using an active night product such as a Retinol cream - as this will always leave some dead skin cells on your skin's surface.
Start Light: Serums are your next step as they are nice and light and deliver active ingredients into your skin. Always wait a few minutes before applying your next layer - this allows the previous product to penetrate correctly. I always pop on a product then go have a coffee, then pop my next layer on.  Pick a serum that is going to target your concern - for example if you feel your skin needs brightening use a Vitamin C serum which brightens the complexion.  I love Obagi Professional C Serum which is full of antioxidants - it protects the skin, brightens and promotes collagen production. Dr Victoria's own DRVICTORIA™ RADIANCE C10 is also amazing at delivering a healthy skin glow.
Seal: Seal in the goodness with your chosen moisturiser, but don't use anything too thick.
Delicate touches: Eye cream or serums are great for helping the delicate areas around your eyes stay hydrated and youthful looking. I like an eye cream with a light texture during the day, to go underneath my eye concealer, and more of creamy repairing cream at night time.
Protect: Apply sunscreen to protect your skin! SPF is the arguably one of the most important steps in your skincare routine, with my favourite being Heliocare Fluid Cream SPF50. I love that it's lightweight enough to layer over multiple products.
Evening routine
Double Cleanse: Double cleanse with your chosen cleansers. The first cleanse will remove make-up, dirt and debris of the day whilst the second cleanse will go deeper in penetrating your skin. I use a more active facial wash for my second cleanse that contains Salacylic and Glycolic acids to give a really deep cleanse. DRVICTORIA™ REVEAL is an excellent option, but be careful not to use it on sensitive skins or round the eye area.
Retinol: I feel everyone would benefit from using a Vitamin A cream at night. Vitamin A is essential for reducing fine lines, improving skin texture and tone, and stimulating collagen production. It is the pro-ageing skin vitamin! I started off using mine twice per week, then gradually increased the frequency as my skin became accustomed.  On alternate nights I use a soothing moisturiser - I really like Environ Super Moisture.
Hope this is useful to you all. If you would like any further advice book in for a
Skin Analysis
with me when we re-open and I can tailor a skincare routine to suit your particular needs. I look forward to seeing you in clinic!
Derna
Aesthetician
Author's experience
Winner of Aesthetician of the Year 2018 at the Scottish Medical Cosmetic and The Herald LOOK Awards is confirmation of Derna's expertise in laser and IPL skin rejuvenation treatments. Derna is a qualified STEREX Advanced Cosmetic Practitioner in the treatment of hair removal and skin blemishes, and has recently achieved Level 4 of VTCT (Advanced Cosmetic Procedures). With exceptional service and attention to detail, Derna can help you achieve vibrant healthy skin with our medi-facials or through her expert skincare analysis and advice.