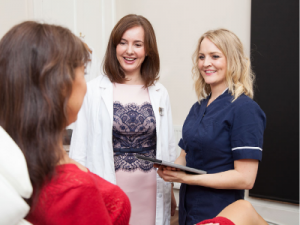 Dr Victoria is one of Scotland's most renowned aesthetic experts with over 17 years' experience as a service provider, trainer, and key opinion leader. Victoria ensures all her team are trained and certified to extremely high standards which is why many team members have won accolades. The team is respected for the great results they consistently deliver and their attentive and bespoke approach to ensuring a tailored treatment plan for every customer who visits.
Your journey will be personal, discrete, and highly professional with the highest standards of care. From consultation, to treatment, to results and aftercare, you will receive a bespoke service that will help you achieve the outcome you desire.
Consultation
Your journey begins with a consultation where your treatments goals and medical history are discussed to gain a comprehensive understanding of how the team can best support you.
Often customers have preconceived ideas from internet research and stories shared by friends. Our team will listen and review your history and goals and suggest the best options that can help you achieve them safely and in the time you wish, which may or may not match your original ideas.
The important factor is you will get honest professional advice that discusses every option available to you, so you can make an informed choice prior to proceeding with your treatment plan.
Treatment
Once you have made your decision, we will arrange an appointment and reminders via email and SMS. These will include: the date and time of your treatment; the practitioner you will be seeing; information about your treatment; and a request to update your medical history in case anything has changed. We take patient care and safety incredibly seriously and will support you all the way.
When you arrive for your appointment, you'll be greeted by our friendly Patient Care Coordinators who will check you in and advise you of where to wait before your practitioner escorts you to the treatment room. Whilst you will have been given a thorough account of what your treatment will entail at your consultation - your practitioner will always ensure you are feeling at ease before beginning your procedure.
Your skilled practitioner will then apply their expertise to deliver the best results that achieve your goals whilst ensuring results look natural. The goal is for you to be the best version of yourself.
View our treatments here.
Recovery
After your treatment you will receive an email containing recovery information to help you remember the details explained by your practitioner. Depending on your treatment, you may also receive some skincare to take home to help optimise results. We offer you a complimentary 2 week review to ensure all is well, but if you have any concerns post-treatment you can always call us for advice and if necessary we will get you in sooner.
Delivering great service is paramount to us, which is why after your appointment you will receive a feedback request by SMS or email to let us know how we did. This allows us to continually improve our service.
Professional Standards
As a professional medical clinic our team, clinical environment, treatment consumables and procedures are inspected and regulated by Healthcare Improvement Scotland so you can have complete confidence in our professionalism.
Here is what one customer had to say about our service.
To start your journey book your consultation online.
Susan
Clinic Manager