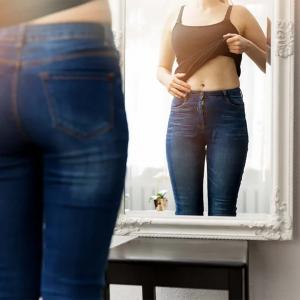 As if living through a pandemic wasn't bad enough, the latest statistics indicate more than 40% of us have gained weight during the covid crisis, with the average increase being half a stone (Ref 1). And whilst a lot can be said for a balanced diet and regular exercise, sometimes certain stubborn pockets of fat just won't shift. But whether you're battling bingo wings or tired of your double chin, you'll be pleased to hear there is a simple solution that gets real results.
Rewind to where is all began
In March 2020, we were plunged into lockdown. Some of you were furloughed and used your newfound free time to get acquainted with Joe Wicks and get into better shape than ever. 
Others, however, reacted very differently. And it was perfectly understandable, of course. When the highlight of your non-existent social calendar was the weekly food shop, it's only natural that you stocked your trolley with treats to cheer yourself up. Wine, biscuits, ice cream… we all have our vices that we turn to during life's twists and turns! But couple that with easy access to the kitchen whilst working from home, and no wonder so many piled on a few pandemic pounds.
The bigger picture
Of course, it's not just the pandemic that is to blame for increasing waistlines. There may be other factors at play here, such as ageing. A recent study showed that the body's ability to remove subcutaneous fat (the soft, squidgy fat that often presents itself as a 'muffin top') decreases with age (Ref 2).
Plus, we know that as you age, your metabolism slows down and you undergo hormone changes. As a result, you may find it harder to maintain the toned look you probably took for granted when you were younger.
Stress can also play a major role in piling on the pounds. Raised levels of the stress hormone, cortisol, can lead to higher levels of insulin which can leave you craving sugary snacks and foods high in saturated fat. This cycle of 'comfort eating' can be hard to break, leading to an accumulation of fat that is hard to get rid of.
Starting the year with the best intentions
With restrictions now easing, the prospect of returning to the office and socialising once again (and therefore not spending all day in jogging bottoms!) has forced many of you to take a good look in the mirror and take action. 
And whilst many resolved to lose the extra weight in the New Year, some of you may be finding that there are certain areas of stubborn fat that are just not shifting, no matter how many squats, burpees, or truffle shuffles Joe Wicks encourages you to do.
You know the bits we mean – the tummy, bingo wings, flanks, and area under the chin. And the reason for stubborn fat remaining in these areas despite your best efforts can often be hereditary. If whilst flicking through your family photo album you notice one trait that unites your mother, auntie and grandmother is a double chin, the chances are in time you'll be (sadly) blessed with one too.
Feeling the frustration
I see it every day – women from their late 20s through to their 60s feeling frustrated that a change to their diet and exercise routine just hasn't worked. They lack confidence about wearing certain clothing. And the truth is, they're not looking for perfection, they just want to fit into their jeans again.
It's not a big ask, and thankfully there is an answer…
Get rid, once and for all
CoolSculpting® – freezing fat cells through a process called cryolipolysis – is the ideal solution for tackling stubborn areas of fat. Clinical trials have demonstrated CoolSculpting® to be safe and effective in reducing fat in 9 areas of the body (Ref 3). 
So how does it work? Quite simply, 'The tissue is drawn into the cup-like shape under vacuum and held in place between two cooling panels. Then, energy, in the form of heat, is extracted from the area and the underlying fatty tissue is cooled. Sensors embedded in the applicator heads monitor the skin temperature during the procedure to ensure a controlled and consistent treatment' (Ref 4). 
The temperature of the targeted fat cells is reduced to -7°C and as a result these the fat cells are destroyed. Over the course of the next 3-4 months the body gets rid of the cells. 
The results can be transformative, we usually expect a 20-30% reduction. But there are two important things to remember – it is not a quick fix and it is not suitable for visceral fat, therefore not suitable for the severely obese.
It all starts with a chat
A CoolSculpting® consultation at the clinic takes about 30 minutes and this involves an in-depth chat about your problem area and any exercises and treatments you have already tried. I have a proper look, take photos from every angle, then use a template to decide which size applicator to use. 
You have plenty of opportunity to ask any questions you might have. The number one question is often – will it hurt? And the honest answer is no! CoolSculpting® is not painful, the area is numb. You may feel a tugging sensation, but that is all. Afterwards, you may experience a little cramping, tenderness or numbness for up to 2 weeks afterwards but there is no downtime and you can carry on with your everyday activities.
We're lucky to have not one but two CoolSculpting® machines at the clinic so we can dual sculpt your flanks and tummy at the same time, for example.
After the CoolSculpting® procedure is complete, I finish by performing a firm 2-minute massage. Research shows this really helps the results. Some people are quick responders, some are slower. You should start to see results in 6-8 weeks but we recommend you allow 6 months for the final results.
The best bit? Once destroyed, these fat cells won't return.
A little extra help
Some people find that after treating their lower tummy, their upper tummy fat becomes more obvious so they book back in to sculpt that area. Others may have just a little fat left that the CoolSculpting® applicator couldn't fit into. In this case, Aqualyx® is a great option for tackling this last pouch of fat. This gel-based aqueous solution works by dissolving fat cells under the skin and, as with CoolSculpting®, these specific fat cells will not return.
If you want to find out if CoolSculpting® could be a solution for you book a consultation with me and together we will explore your options.
Julie
Author's experience
When it comes to understanding your skin and what's going on beneath it, Julie certainly knows her stuff – she didn't just pass the CIBTAC Level 4 Advanced Skin Science qualification, she passed it with distinction! From facials to fat freezing treatments, Julie is responsible for some incredible results. 
References and resource links: