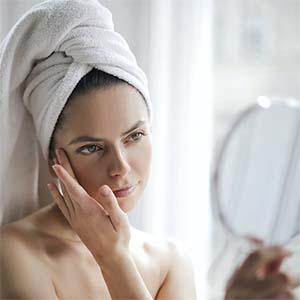 Botulinum toxin (known to most people via its most famous brand name Botox®) is one of the cornerstones of aesthetic medicine. It is a treatment made famous by celebrities and portrayed in various ways in the media – not always kindly or accurately. You might think you vaguely know what toxin is, but we are going to really get to understand this versatile treatment…
A brief history of botulinum toxin
Botulinum toxin type A has been used in medicine since the 1970s, when it was used for various indications including migraines, blepharospasm (involuntary blinking of the eye), strabismus (misalignment of the eyes), overactive bladders, bruxism (jaw clenching), hyperhidrosis (excessive sweating), and muscle spasticity. It therefore has a long and very safe track record in medicine!
Its use in aesthetic medicine is one of the most famous stories in this field. Toxin's benefits were discovered by an ophthalmologist when he found that his strabismus patients kept wanting to come back for more treatments. They were loving the "side-effect" of being wrinkle-free so much they couldn't wait until their next appointment!
Back to basics
Before we dive into why toxin works so well, let's discuss some basics around ageing and the skin. As you get older, your skin inevitably loses its elasticity and begins developing wrinkles. This is due to the loss of proteins in your skin like collagen and elastin. In general, there are two broad causes of facial wrinkles – one is from the movement of muscles of facial expression, and one is from environmental factors like sun exposure that degrade our overall skin structure.
This is why good sun protection is so important. Not only does it protect you from skin cancer, but it reduces skin ageing. Having good healthy skin will make any injectable treatment you have achieve better results. I would even go as far as to say there is no point spending a lot of money on toxin treatments if you are not looking after your skin!
And relax…
Toxin is most useful in treating dynamic wrinkles, as it temporarily blocks the signal between the nerve and the muscle, allowing your muscles to relax and those lines to soften or disappear. Whilst it can prevent deeper wrinkles and lines from forming it is not recommended as preventative treatment for people that show no indications of wrinkles as some media channels have reported.
Treatments tailored to you
Toxin treatments are very much tailored to you and what you tell us you want to achieve. People have a perception that toxin treatments will result in a frozen face, but this is not true. Doses and injection points can be customised to create a natural look, and you can retain as much or as little movement in the muscles as you desire.
Some of us like certain wrinkles and laughter lines and you may feel these define your character at this point in your life. So, you can choose which wrinkles and lines you want to keep.
Many people prefer a light treatment, commonly referred to in the media as "Baby Botox®" which simply involves injecting smaller doses and potentially spacing injection points further apart. At the end of the day, we create a bespoke treatment plan to give you the outcome that you seek. 
Both men and women come to clinic for toxin treatments! Areas of concern may differ between people. For example, a lot of women prefer targeting their "crow's feet", while men may prefer to preserve their "laughter lines" and instead focus on their "frown lines".
What to expect
Typically results for a toxin treatment last 3 to 4 months, with results peaking at six weeks and slowly tapering off. However, there is some individual variation as everyone's anatomy and muscle strength can be different. If you prefer a light treatment, you will find that results will typically last 2 to 3 months.
Whilst Botox® is the most well-known brand other options exist including Bocouture®, Azzalure® and Alluzience® which may provide slightly shorter or longer lasting results for individuals.
Toxin or filler?
Deep lines that are present at rest, or are a result of facial volume loss, are better addressed with dermal fillers. These are lines like the nasolabial folds or your marionette lines. These lines occur because the fat pads in your face tend to get smaller as you age, and gravity pulls everything down. Toxin will only affect muscle movement, so to combat lines that occur from loss of structure and volume, we need to put that structure and volume back with a filler.
Here are the 3 most popular wrinkle treatments using toxin.
Glabellar lines / frown lines
The glabella is the patch of skin between the eyebrows and above the nose. Often vertical lines can form making you look very serious of constantly angry. A toxin treatment can relax the muscles to reduce the lines and prevent deeper lines forming. If deep lines exit filler can be used to smooth out the remaining deep static line.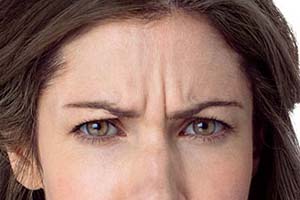 Crow's feet
Crow's feet are wrinkles that branch from the outer corners of the eyes while smiling. Over time these can become static lines. A toxin treatment can relax the muscles to reduce the lines and prevent deeper lines forming. Mild static lines can be reduced with radiofrequency or Tixel treatment to restore collagen – deep lines can be softened with filler.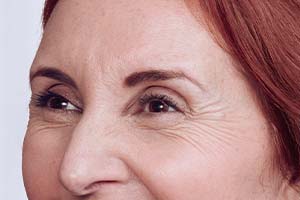 Forehead lines
This commonly treated area targets the lines that appear when we raised our eyebrows. By relaxing the muscles that cause these dynamic wrinkles we can create a smooth forehead. Some people want a frozen forehead, while others prefer a lighter touch that allows more movement. The choice is yours! Filler treatments are not an option here.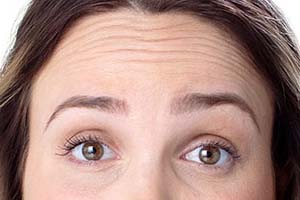 Advanced techniques
Toxin can also treat other areas that you may not be aware of! It can be used to smooth out bunny lines that appear when you crinkle your nose. It can be used to soften the lines that appear around our mouths when you purse your lips, and this can even have the effect of a 'lip flip' allowing the upper lip to gently evert and appear fuller. It can be used to correct a gummy smile if you have overactive muscles that pull your upper lip up a little too much. It can also be used on the depressor muscles that pull down the corner of your mouth, helping to lift and relax that area, or on the chin to remove the 'pebble chin' appearance.
A low risk procedure
The beautiful thing about a toxin treatment is that it is a very low-risk procedure, and there is nothing that you can do with toxin that is permanent. Most common risks associated with toxin are related to piercing the skin with a needle – there is a potential for redness, swelling, bruising, bleeding and infection. However, when performed by a medical professional and in a registered clinic these risks are extremely small.
More serious complications, although temporary, involve over relaxation of muscles resulting in sagging brows or asymmetric smiles. Extremely rare complications can affect your speech or breathing. This why it is vital to go to a medical professional who understands the complexities of anatomy of how muscle groups interact and is able to examine your medical history.
It is also worth emphasising that toxin is a prescription-only medication, and it is illegal in the UK to be administered toxin without a face-to-face consultation with a prescriber. Therefore, if you are ever offered toxin by a non-medical professional alarm bells should be ringing that they are practicing unsafely and illegally.
The difference it can make
When used by the medical professional with an eye and understanding of anatomy, ageing, and aesthetics - impressive results that have a massive positive impact on patient self-confidence can achieved within 10 days.
If you would like to learn more about these treatments arrange a face to face consultation to discuss what is most appropriate for you and always use a medical professional.
Dr Emmaline
Author's experience:
Dr Emmaline's expertise and experience in the field of facial aesthetics make her the number one choice for so many. With extensive post-graduate training, including a Master of Surgery (Hons), Emmaline now specialises in aesthetic injection treatments.
Reference and resource links: